Understanding and mapping risk is at the heart of what we do
Since our creation in 1971, we have stayed true to our conviction that intelligent risk-taking is key to delivering smoother, more consistent returns over time.
In investment, as in life, taking risk is unavoidable; it is necessary to perform and progress. For us, intelligent risk-taking is about being brave but prepared. The key is to identify the risks worth pursuing – where to be brave – and, crucially, those to avoid. By understanding and targeting risk in a measured, informed way, we aim to deliver superior performance for our clients.
Our focus on understanding and anticipating risk as a means to outperform sets us apart. Risk management is part of our DNA, our culture and defines everything we do. Whereas many investment companies seek to minimise risk for a given return, we work in reverse, aiming to maximise potential returns for a given unit of risk. We apply this approach to how we manage both our business and our investments to deliver not only performance, but also long-term stability for our company, our employees and our investors.

A holistic view of risk
As risk is multi-dimensional and always evolving, so is our risk management approach. We look beyond traditional measures, such as volatility and correlation, to construct risk-efficient portfolios with low downside risk and an optimal diversification profile. Taking a 360-degree perspective, we seek to model, analyse and map the broadest possible spectrum of risks to help us better understand market dynamics. Our focus on research helps us to identify potential sources of future risks early and adjust our portfolios as necessary. This enables us to target remunerated risk more precisely and, importantly, avoid unrewarded risk to deliver asymmetrical returns.
As an example, our innovative risk-managed equity investment process integrates a broad range of risk factors, such as volatility, correlation, market valuation, macroeconomic risks, concentration, ESG, liquidity and crowding. We constantly look for new sources of risk that could affect markets and adjust our process and portfolios as necessary. By using a range of different risk models and a combination of rigorous systematic and discretionary analysis, we aim to deliver steady, long-term outperformance with downside protection.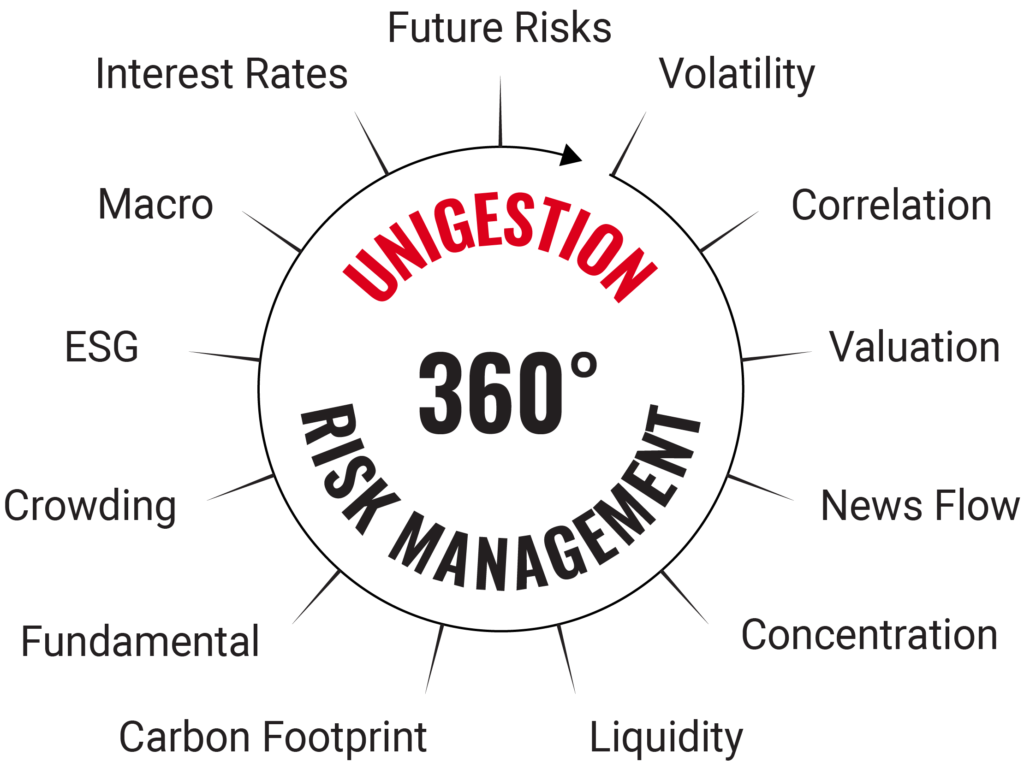 We also take a multi-dimensional view when constructing multi asset portfolios. Rather than looking at volatility measures alone, we define risk in terms of potential loss of capital, which is the true measure of risk that investors face. Using a proprietary Expected Shortfall model, we aim to incorporate risks that are ignored by volatility-based analysis, such as valuation, asymmetry, tail risk and liquidity.
By focusing on different elements of risk, we are less dependent on individual measures. This allows us to apply a more robust risk allocation across our portfolios and seek to achieve a smoother distribution of returns over the long term.
Our approach to analysing, managing and allocating risk rests on a solid foundation
of scientific research and academic collaboration.

Managing risk in private equity
In private equity, we seek exposure to companies that are underpinned by long-term trends. Through in-depth research, we aim to identify areas of the market with the greatest growth potential. With an extensive network of 500+ specialist investment partners, a 43-strong team and more than 25 years' experience, we are able to gain a deep understanding of both global and local market risks.
Our reputation as a reliable long-term investment partner helps us maintain a strong, high quality deal flow. We also often gain early and sometimes exclusive introductions to investment opportunities. We avoid leverage, favouring instead companies with strong potential for operational improvement or organic growth, which means that performance is less dependent on the macroeconomic environment. Our strict price discipline and ability to access off-market deals means we are largely unaffected by market volatility in terms of pricing and volumes.
Our in-depth due diligence process allows us to fully assess potential risks associated with each investment and its likely impact on the wider portfolio. We aim to construct robust portfolios that are typically diversified by geography, industry and strategy, while minimising specific sector, country and currency risks. Our involvement on the boards of most of our investments allows us to address any issues that may arise and to closely assess exit potential to optimise returns.

Asset allocation as a pillar of risk management
Unigestion also aims to manage risk through superior asset allocation. Rather than using a simple risk-based allocation, we take it one step further by rooting the whole allocation framework in our understanding of the macro economy. Our multi asset and alternative risk premia portfolios combine a macro risk-based strategic allocation with a dynamic allocation that allows us to adapt their positioning to the changing market environment.
In order to monitor macroeconomic risks in real time, we have developed a proprietary range of indicators that assess the risk of recession, inflation shocks and market stress. The output from these sophisticated tools – known as 'Nowcasters' – allows us to dynamically adjust the strategic allocation to prevailing conditions. Finally, we apply a discretionary allocation approach to tactically dial risk up or down around specific market events, such as central bank announcements or political elections. Again, our process applies a mix of systematic analysis using sophisticated, proprietary models, with the discretionary, forward-looking insights of our experienced team.
Our equity factor strategies also use macro risk-based dynamic allocation to enhance risk-adjusted returns. This process considers both micro drivers and sensitivity to macro regimes, based on output from our Nowcaster indicators.

Please do not hesitate to contact us with any questions you may have.