An innovative, holistic 360-degree risk management-based approach to equity investment
Our Approach
At Unigestion, we have redefined risk management. The investment philosophy within our equity strategies is anchored in the belief that the best way to make money is not to lose it. In other words, downside protection and positive return asymmetry are the drivers of long-term performance. Our conviction is supported by academic research that shows that risk-efficient portfolios outperform their benchmarks in the long run.
Given our focus on reducing the risk of absolute losses independently of tracking error, our equity strategies can be used to gain standalone equity exposures or as building blocks that can complement an investor's existing portfolio. They are ideally suited to investors dealing with liability management, risk-budget, capital preservation or absolute return objectives.
All our strategies are completely customisable to suit individual client needs. Clients can select their preferred level of active risk and/or implement a factor tilt, as required. We can also construct, integrate and manage a specific environment, social and governance (ESG) overlay across all our equity strategies.

Unigestion developed its core risk-managed equity strategy in the mid-1990s and today, we have the longest track record in the industry of running risk-managed equity portfolios. We currently manage USD 8.6 billion using this approach across both pooled funds and segregated mandates.
Our risk-managed equity strategy is available across a number of geographic regions/markets:
Global    
Europe       
US
Japan
Switzerland
Emerging Markets
Pacific
The objective of these long-only strategies is to outperform the respective benchmark over a full market cycle by 3% p.a., while reducing volatility by 30%. The strategies are always 100% invested in equities and are all managed using the same investment approach.
Due to our risk-managed investment approach, we would expect the strategies to outperform in both bear and range-trading markets, perform in line with the market during broad-based bull phases, and underperform during narrow thematic rallies.
In numbers: Equities at Unigestion
22
Investment
Professionals

Source: Unigestion, as at 31.12.2021
Key competitive strengths
Unigestion is a pioneer in applying risk management as a means to outperform
Our investment process has been continuously refined and improved since its inception in the mid-1990s
Instead of just focusing on past volatility, we control a full spectrum of risks, including ESG
We combine sophisticated systematic analysis with human insight
Our strategy is available via pooled funds and specific mandates which allow considerable potential for client customisation
Investment approach
Risk is not static. It is complex and multi-dimensional. We look beyond traditional measures, such as volatility and correlation, and adopt a 360-degree perspective to construct risk-efficient portfolios with low downside risk and an optimal diversification profile. We seek to model, analyse and map the broadest possible spectrum of risks to target remunerated risk and avoid unrewarded risk, with the aim of delivering strong risk-adjusted returns. This explains why our strategy significantly differs from passive low volatility strategies constructed on a purely mechanistic basis, which can be affected by hidden sources of risks that are not captured by common statistics. With a strong focus on research and innovation, we are able to identify potential sources of future risks early and adjust our portfolios as necessary.

Five key benefits of our 360-degree approach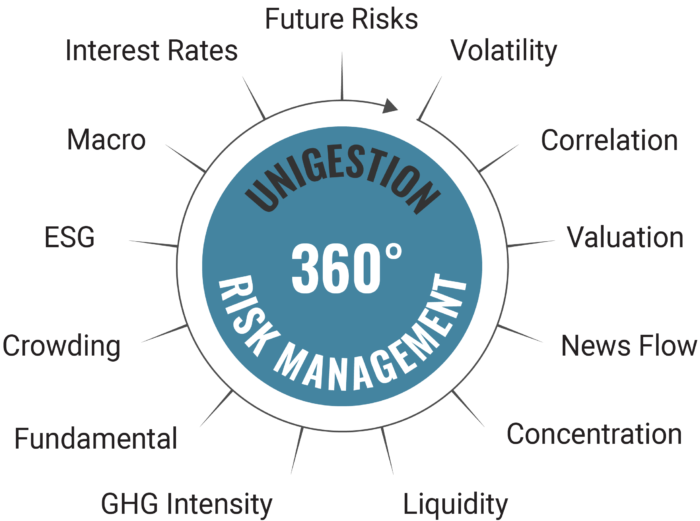 Risk focus: focusing on risk rather than expected returns enables us to capitalise on downside protection in difficult markets to generate long-term outperformance
Discretionary portfolio assessment: focusing on valuation, fundamental risk control, corporate governance and any qualitative risks associated with potential portfolio stocks
Avoidance of behavioural biases: our investment process objectively favours lower-volatility and uncorrelated stocks, while avoiding overvalued success stories
Performance asymmetry: by concentrating risk reduction on unrewarded risks, we reduce the negative tail of return distribution while creating a positive skew
Downside protection: we focus on reducing the risk of loss and ensuring optimal diversification by using a range of different risk models and through discretionary scrutiny of candidate stocks
Integrating ESG criteria
We integrate Environmental, Social and Governance (ESG) criteria into our equity strategies at various stages of the investment process. We eliminate stocks with important, specific ESG risks such as environmental, excessive carbon emissions, workforce treatment or corporate governance issues, legal problems or fraud. We also exclude stocks with direct exposure to controversial weapons. In addition to internal qualitative research, we also use external ESG research to validate our equity portfolios on an ongoing basis.
In 2019, Unigestion developed proprietary company and country ESG scores to further integrate ESG criteria into the investment process. The scores provide comprehensive measures of companies' and countries' efforts in terms of ESG considerations. We believe that using a quantitative approach provides consistency of analysis across our portfolios as well as transparency in our choices.
Our ESG process has four pillars, outlined below:
Pillar I: Norm-based screening (Exclusion of: Controversial Weapons, Tobacco producers, Adult Entertainment producers, Thermal Coal exposures, Predatory Lenders, and Non-compliant corporations regarding: human rights, labour, environment and anti-corruption)
Pillar II: Exclusionary Screening (Exclusion of Non-covered entities, Worst-in-class entities, and High Carbon Emitters)
Pillar III: ESG Risk Control (Aggregate level ESG score and GHG intensity, Fundamental analysis)
Pillar IV: Active Ownership (Proxy voting, Direct Engagement, and Collaborative Engagement)
 
Our scoring methodology incorporates the following:
A focus on ESG-related risks: Sustainalytics indicators form the basis of our assessment at an industry level.
Additional sources: We supplement Sustainalytics' data with additional sources such as: S&P Trucost and ISS Ethix, as well as with our own assessment. Importantly, this is supported by the results of our corporate engagement effort and our internal assessment can take precedence over external data sources.
Regional disparities: We account for varying standards and degrees of maturity between emerging and developed countries when building our scores bottom-up.
Sector disparities (Companies only): We recognise differences between sectors and account for different expectations of each when putting together our scores at an industry level.
Minimal lag (Companies only): We accommodate the impact of fast evolving controversies as well as their severity.
Efforts to improve: We recognise companies' and countries' gradual improvements despite low base levels by assessing the "trend" of the ESG score in addition to its absolute level.
Engagement activities (Companies only): We incorporate the results of our engagement activities into the ESG score.
---
---